Iceland Airwaves announces Airwaves Pro, a music conference connecting creative professionals from all over the world. Alongside Iceland's best music festival, Airwaves Pro takes in a dynamic array of panels, seminars, keynotes and networking sessions.
What is Airwaves Pro?
Airwaves Pro brings industry and musicians from all around the world to Reykjavík. People are drawn to the tight knit music scene and the incredible surroundings. While only 350,000 people live in Iceland, the country's global music footprint is oversized.

Between North America and Europe, Airwaves Pro is an unbeatable meeting point for the international music industry.
This year Airwaves Pro features inspiring keynotes and talks from some of the industry's most esteemed leaders and thinkers, including:
Entrepreneurs from Firestarter (Iceland's first start-up accelerator for music) will be advised by MIT Bootcamps, who will bring Founder and Director, Erdin Beshimov, Associate Director, Vimala Palaniswamy, and coach Max Jahn, to provide support and mentorship to the Firestarter finalists ahead of their presentations. MIT Bootcamps will also facilitate the MIT Guided Hackathon, focused on innovation opportunities in Reykjavik's music industry. MIT Bootcamps are also bringing composer, computer musician, vocalist, and improviser Tina Tallon, as a keynote speaker. 
Iceland Music will present their new exciting new initiative, Record in Iceland. STEF will host a panel with amazing music supervisors, and Iceland Naturally will discuss the future of radio in the digital age. 
Reykjavik Music City will host panels exploring the night economy of cities, Reykjavik as a music city, venues in Iceland and beyond. Angela Dorgan (director of Music from Ireland), will host a panel on music industry and mental health. Other panels discuss touring and exporting to neighbouring Nordic markets and what better mutual cooperation can be achieved.
And more to be announced.
Airwaves Pro runs for two full days on Thursday November 7 and Friday November 8. And of course, each evening Wednesday November 6 – Saturday November 9 Iceland Airwaves takes over Reykjavík, with over 100 performances from bands from Iceland and all over the world (see the line-up here).
Alongside the festival's four days and nights of incredible music, Airwaves Pro connects professionals from the Nordics, Europe, North America and beyond with a detailed program of: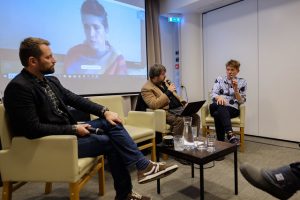 The two day panel program will cover everything from - Music sync and innovation - Exporting to the Nordics and beyond - The changing climate of music journalism and PR - Music cities: night economy, venues and more - Recording in Iceland - The future of radio... and much more to be announced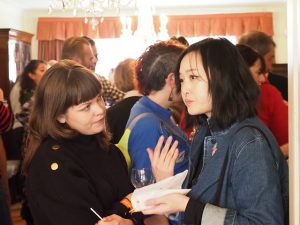 Connect with industry innovators and musicians from all over the world in a fun and welcoming environment. From networking sessions to parties, mixers and happy hours, you will have many opportunities to make new friends and forge new relationships.
Listen and engage with some of the creative industry's leading thinkers and innovators including Dr Nelly Ben Hayoun (Nelly Ben Hayoun Studios / University of The Underground), Alison Donald (Kobalt / AWAL), composer Tina Tallon and Stephen O'Reilly (ie:music / ie:ventures).
Who will be there?
Airwaves Pro welcomes everyone from musicians to music executives, and everything in-between.
Last year the conference hosted:
Booking Agents
Composers
Cultural Exchange Bureaus
Culture Funds
Digital innovators
DSPs
Export Bureaus
Festival Programmers
Funding Bodies
Marketing Experts
Media
Music Managers
Music Publishers
Music Supervisors
Musicians
Public Relations companies
Radio stations and programmers
Record Labels
Just some of last year's attendees included:
Arctic Rights
ATC Live
ATC Management
By:Larm
Coda Agency
Creative New Zealand
Disney/Freeform
Domino Music Publishing
Eurosonic Nooderslag
G! Festival
Greenland Culture House
Helsinki Festival
Iceland Music
Iceland Naturally
International Talent Booking
KEXP
Keychange/PRS
Kilimanjaro Live
Klapp! Management
Kobalt Music
Mercury KX
Music Norway
Netflix
Paradigm Agency
Progressive Artists
Reeperbahn Festival
Reykjavik Music City
Roskilde Festival
Shorefire Media
Sony Music
Spotify
STEF
Stereogum
The Current (Minnesota Public Radio)
The Line of Best Fit
The Orchard
United Talent Agency
Universal Music
William Morris Endeavour
How do I participate?
Industry passes are 24.900 ISK and give you the following:
2 day conference pass (Nov 7 and 8)
4 day festival pass (Nov 6 to Nov 9)
Priority venue access (subject to capacity)
Inclusion in Airwaves Pro database and accreditation
Exclusive access to mixers, happy hours and networking sessions
Regular updates ahead of and during the festival and conference
Please fill in the form in order to register. All items are mandatory.
Once approved you will be sent a link to purchase your industry pass. Please note approval and processing takes 2-5 working days).
REGISTER
Press and photographers  should visit the press page
here
.
Please note, we reserve the right to make changes in rates and schedule. The industry pass  do not guarantee access to potential invite only events, other limited-capacity workshops and networking events or concerts after the capacity is filled. Some of the networking sessions may require enrolment.
Airwaves Pro is supported with funding from the Nordic Culture Fund.