And we're back! The 22nd edition of Airwaves returns this November 4-7, taking place all across downtown Reykjavík. 
ADHD // Andavald // Andy Svarthol // Benni Hemm Hemm // Black Pumas (US) // BSÍ // Chlobocop (UK) // Courtney Barnett (solo) (AU) // Daughters of Reykjavík // dj. flugvél og geimskip // Dorian Electra (US) // Dry Cleaning (UK) // Erika de Casier (DK) // GRÓA // gugusar // Halldór Eldjárn // Júníus Meyvant // Kiriyama Family // K.óla // Krummi // Lynks Afrikka (UK) // Metronomy (UK) // MSEA // Myrkvi // omotrack //  Oyama // Pale Moon // Sólveig Matthildur // S.hel // Sin Fang // Sinmara // Squid (UK) // Tami T (DE) // The Murder Capital (IE)
BUY TICKETS
Nominated as the world's Best Small Festival at the 2020 NME Awards, Iceland Airwaves mixes the best new musical talent with forward-thinking artists from all around the world.
One ticket brings you four magical days and nights of music. Rock venues, art galleries, churches and concert halls are filled with local revellers and global adventurers, united in their love of music.
International artists for 2020 include Australia's Courtney Barnett, who will be performing two intimate solo shows in Frikirkjan; Black Pumas, blowing up around the world with their eponymous debut album and sold out tours throughout the US and Europe; and, beloved UK group Metronomy will take the stage in Reykjavík this November.
Eurosonic MME Award winners Daughters of Reykjavik, Benni Hemm Hemm and band perform for the first time in many years, as does Sin Fang. Júníus Meyvant will also return to perform two special shows, one with full-band and one solo. 
Indie rock with a twist comes from hotly tipped acts such as Squid, Dry Cleaning, The Murder Capital, BSÍ and Pale Moon.
There's future pop from near and afar with the the likes of K.óla, Tami T, gugusar, Dorian Electra and Lynks Afrikka, with many more acts to be announced.
Super early bird tickets have already sold out. Early bird tickets are on sale now for a strictly limited time, or until sold out. Don't miss out!
BUY TICKETS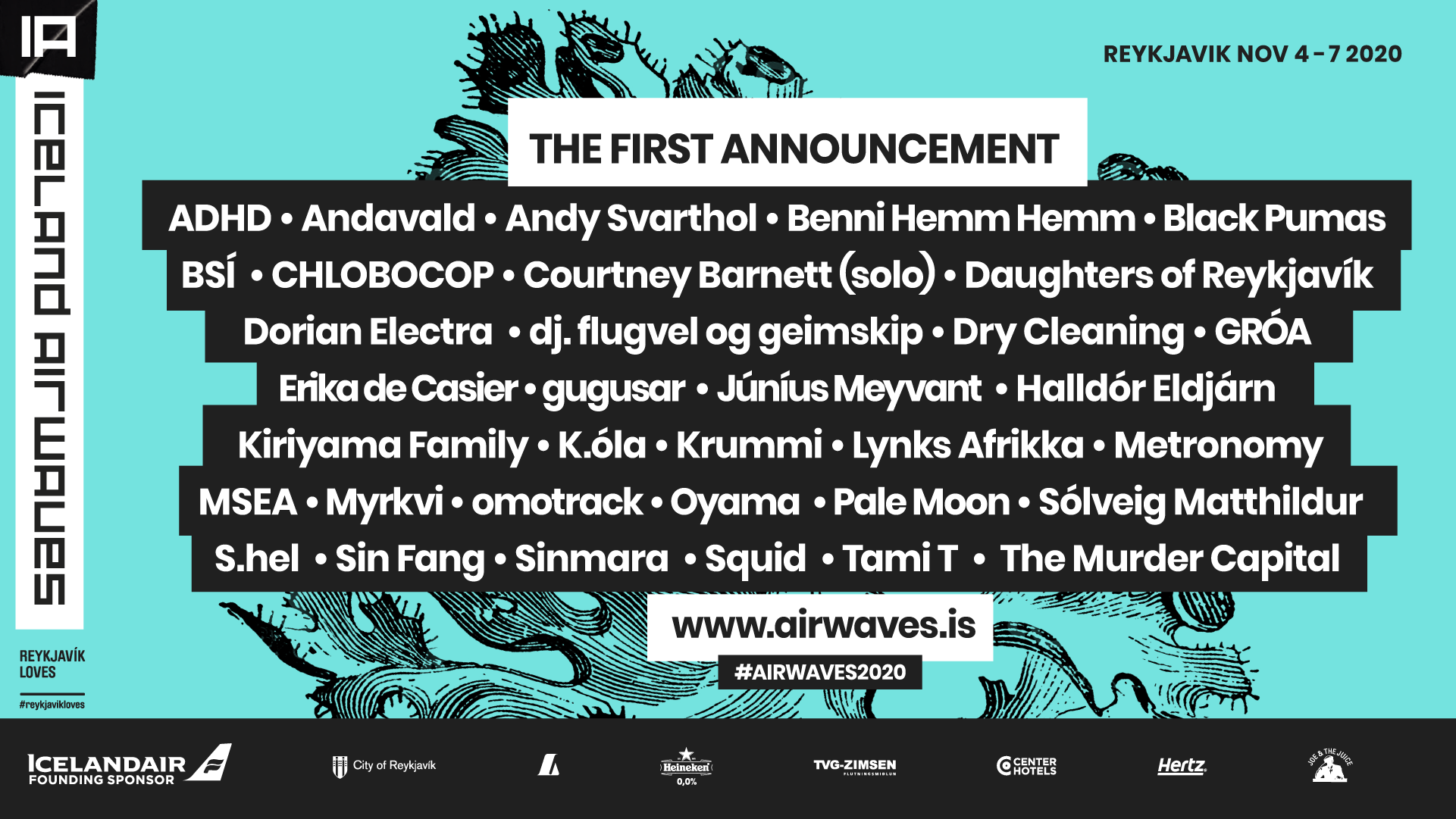 TRAVEL PACKAGES